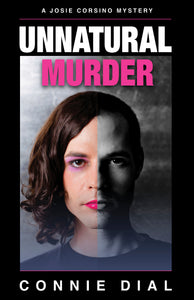 Unnatural Murder (Josie Corsino Mystery #3)
A wealthy transvestite is murdered on a Hollywood street in front of dozens of witnesses, but no one will tell the police anything. Captain Josie Corsino isn't surprised since the east end of Santa Monica Boulevard is far from the glitzy world of Hollywood Boulevard with its pink granite sidewalks and cheap souvenir shops. This menacing dangerous place populated by prostitutes, addicts and teenage runaways is rarely seen by tourists. Josie soon discovers a lack of cooperation isn't their only challenge. The victim has ties to some of the most influential people in Los Angeles who don't appear to be that interested in finding his killer. In fact, political leaders and high-ranking department personnel seem determined to prevent it.

Within hours, a second homicide in the same neighborhood makes the investigation even more difficult. The vice unit patrols this street every night, but these high-profile victims are not their usual clientele. The killings drag Josie's finest cops into a bizarre world they mistakenly thought they understood and could navigate.

Josie tries to protect her subordinates from the unusual interest in the case as she battles career-ending pressures on both the work and home fronts. Her husband and son have moved out of their Pasadena home but she can't seem to prevent them from sabotaging her life.

When an old friend steps in to salvage the Hollywood investigation, her emotions are in turmoil because of him. A tempting opportunity arises for a new beginning, but she can't decide if that's what she wants or needs.
After a 27-year career with the LAPD working the streets of Hollywoos as a narcotics detective and eventually as the area's commanding officer, CONNIE DIAL has a genuine knowledge of what happens not only within the police department but in the dangerous, and many times disturbing, street world of addicts and prostitutes. Unnatural Murder is the third Josie Corsino mystery and her fifth book profiling crime stories in LA. Fallen Angels (2012) introduced the tough Hollywood captain followed by Dead Wrong (2013). Internal Affairs (2009) and The Broken Blue Line (2010) follow Detective Mike Turner as he investigates crime inside and outside the LAPD.
---
We Also Recommend