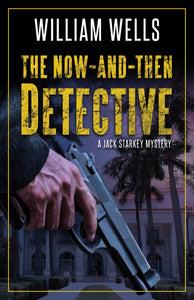 The Now-And-Then Detective
Retired Chicago homicide detective Jack Starkey is living his retirement dream in Fort Myers Beach, a little town on Florida's Southwest Gulf Coast, where he owns a bar called The Drunken Parrot and resides on a houseboat named Phoenix.  Jack's friend, Chicago Tribune police reporter William Stevens, writes a series of best-selling crime novels based upon Jack's career and pays Jack to edit them to make certain all the cop stuff is right.
But, every now and then, life in paradise can get a bit boring, so Jack agrees to help local police departments with murder investigations.  When Henry Wilberforce, an 82-year-old Chicago billionaire, is murdered execution-style in his winter home in nearby Naples, Jack takes on the case.
He finds that Henry had recently been behaving strangely, dressing in costumes and giving away large amounts of his money randomly.  Henry's wife and son are deceased.  His only living relatives are a nephew, Slater Babcock, a trust-fund slacker in Santa Monica, California, and two nieces, June Dumont, who is married to a prominent Washington, D.C., attorney, and Libby Leverton, the wife of a prominent Boston real estate developer.  Henry hasn't been in touch with them for many years.
A prime rule of a murder investigation is to ask: Who benefits?  With no other suspects in sight, Jack wonders if any one of the cousins, or all of them acting in concert, and who must assume they are their uncle's heirs, need his money badly enough to hire a hitman to stop Henry from giving away "their" money.
Jack's investigation takes him to Santa Monica, Washington, and Boston, where dead-ends and false leads make The Case of the Dead Philanthropist one of the most challenging Jack Starkey has ever faced.
Born in Detroit, William Wells is a graduate of Hamilton College with a B.A. in English literature.  He served aboard a Navy destroyer and as a Navy journalist, and was a radio disc jockey, newspaper staff writer, author of an internationally syndicated comic strip, speechwriter for the Governor of Michigan, marketing agency executive, and custom publishing company owner.  His previously published novels include Hope's Road, Ride Away Home, Face of the Devil, Detective Fiction, and The Dollar-A-Year Detective.
---
We Also Recommend