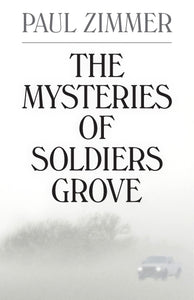 The Mysteries of Soldiers Grove
he town of Soldiers Grove is nestled amongst the driftless hills of southwestern Wisconsin. Its winters are long, its warmer seasons bright and challenging. The population is fewer than 600, including those residing in the senior citizens home. 

Two of these seniors, Cyril and Louise, have come to live there. Unlikely as it may seem, for they come from very diverse backgrounds, they form a close friendship, and their growing attachment sparks them to adventures and unlikely locations. Ultimately they face frightening circumstances which test them to their limits, while binding and nurturing their growing love for one another.

Instead of slipping gracefully away into old age, Cyril and Louise are compelled to protect themselves against a vicious threat when Balaclava, an out-of-town armed sociopath, relentlessly attempts to rob Cyril not only of his life savings but, if necessary, take his life as well. How they ultimately cope with this threat and resolve this crisis has the makings of a first class thriller.

This thoughtful, bitter-sweet love story represents and chronicles much about our world and the passage of time in this accomplished work by a prize-winning writer.
PAUL ZIMMER has received eight Pushcart Awards for his prose and poetry, and an Award for Literature from the American Academy and Institute of Arts and Letters. In 1995 he was given the Open Book Award by the American Society of Journalists and Authors. His book, The Great Bird of Love, was selected for the National Poetry Series by William Stafford. He has recorded his poems for the Library of Congress and was twice awarded Writing Fellowships by the National Endowment for the Arts. Having served as a writer-in-residence at more than a dozen universities, he lives on a farm in southwest Wisconsin.
---
We Also Recommend