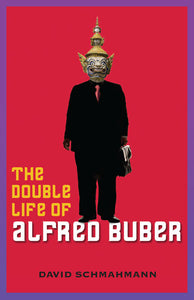 The Double Life of Alfred Buber
The Double Life of Alfred Buber . . .
Did you know it won the Dactyl Foundation's 2013 Award for Literary Fiction and the Movie Rights were just optioned too?
Praise for
The Double Life of Alfred Buber . . .
"...a truly remarkable literary creation..." --
The New York Journal of Books
"
The Double Life of Alfred Buber
 is an original and sophisticated novel which lingers in the mind. . ."--
Dactyl Reviews
"Exquisitely written, detailed, fierily emotional and yet completely cold and callous, 
The Double Life of Alfred Buber
 is a unique read that will settle around a reader like a cloying dust and linger, even after a long, hot shower, in the pores. . ." --
Luxury Reading
Overview of
The Double Life of Alfred Buber . . .
A splendid original tale, Alfred Buber is warm, smart, romantic, but his life is as barren as an ice floe, an embarrassing collage of successes and humiliations that add up to... nothing. He lives as if he has landed in a strange country, nowhere he recognizes.
Can an-oh-so respectable Boston lawyer, out of options, out of hope, lonely beyond measure, stray way outside the lines and find love?


Can he step into the tawdry dark, and back into the wholesome light, and not be affected?
Alfred Buber thinks he can. But the line between his two lives is a thin one.
For anyone who hungers for great fiction, this fictional memoir is your next good read!
More praise . . .
"From the first page it is evident that Schmahmann has produced interior monologue of the first order. . . An interesting an eccentric companion, 5 Stars." --
Jim McKeown, KWBU, NPR
"An unusual morality play whose artful style veils the depravity of its protagonist."--
Kirkus Reviews
"This book is literary fiction at its best--taut, well crafted, lovely prose, thoroughly engaging, which draws you into the character s strange new world and leaves your reading landscape forever altered."
--BookConsciousThe Double Life of Alfred Buber
 reads like a lost Nabokov novel...the prose is meticulously wrought, the plot deeply complex and psychologically layered..."--
Small Press Reviews
---
We Also Recommend