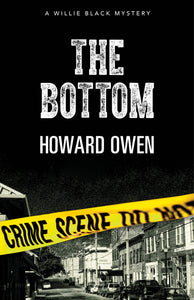 The Bottom (Willie Black #4)
Richmond is in a panic. For the fourth time in eighteen months, a young girl or woman has been brutalized and murdered. This time, the body of a fourteen-year-old is found in Richmond's Shockoe Bottom train station. On her ankle is the same perversely cartoonish tattoo that has led the cops and newspapers to dub the perpetrator the Tweety Bird killer.

When Willie Black finds out that the night security guy at the station was lured away from his post by a phone call from Willie's daughter just before the body was dumped, the story gets weirder and a lot more personal.

At the same time, Willie's paper is facing a lawsuit from a developer who wants to make a killing of another kind - turning part of The Bottom into top of The Bottom, a mix of big-box stores and apartments. It's an area where slaves were buried in unmarked graves, many of them still not discovered. The Bottom is emblematic of what Willie thinks of as the permanent stain Richmond can never wash away, but now he and the paper are under pressure to "lay off" Wat Chenault and his plans to turn the land into a real estate bonanza.

When the police arrest Ronnie Sax, a photographer who used to work at Willie's paper, for the murders, the evidence seems overwhelming. But then Willie starts getting letters from someone who seems to know more about the killings than an innocent bystander should. Eventually, Sax is released and the city goes on high alert again. At the same time, Willie grows more and more suspicious about Chenault's motives.

Willie is also trying to crawl back into the good graces of the lovely Cindy Peroni, seeking to convince her that he at last has a handle on his bourbon and two-packs-a-day habits.

In The Bottom, the fourth Willie Black mystery to follow Oregon Hill (winner of the 2012 Hammett Prize), Richmond's nosiest newspaperman, true to form, chases the story like a bulldog going after a pork chop. But once he's caught it, he'll wish he hadn't.
This is HOWARD OWEN'S thirteenth novel and fourth Willie Black mystery. Like Willie, Owen is a newspaperman. He's been a reporter, a sports editor, and editorial page editor. Among Owen's first nine novels were the best-selling Littlejohn, The Reckoning, and Turn Signal. He and his wife Karen live in Richmond, Virginia.
---
We Also Recommend