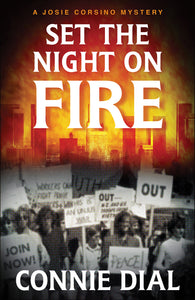 Set the Night on Fire (Josie Corsino #4)
In 1971, Josie Corsino is unmarried Josie Pastore, a fresh face chosen from her LAPD policewoman class to be an undercover operative. She is the first female allowed to work in this dangerous assignment, but as a college graduate from a working class family, she quickly finds acceptance among the department's targeted groups.

When the story begins, she's immersed in the politics and schemes of one of the most active radical organizations in LA, but after three years in this assignment she's weary of the lifestyle and tired of lying about who she is and what she really believes. Josie wants to "come up," get retrained at the LA Police Academy and do police work with the same opportunities as her male counterparts. Before that can happen, she s arrested during a brutal demonstration in downtown LA and upon being released from jail is told by her department contact that one of her fellow undercover officers has disappeared. Members of his group have filed a missing person report with the police department in which they publicly blame the LAPD for his sudden disappearance. It would be an embarrassment for
the department to reveal that the officer was spying on this particular group, so Josie is given her final undercover assignment--find the missing officer and bring him back.

For protection she forms an unlikely alliance with another UC as her search leads to an underground network of violent radicals with ties to celebrities and political figures who are unwitting participants in a plan to destroy innocent people and property. By the end, both her personal and professional life are about to undergo some drastic changes.
After a twenty-seven-year career with the LAPD working the streets of Hollywood as a narcotics detective, an undercover agent, and eventually as the area's commanding officer, CONNIE DIAL has a genuine knowledge of what happens not only within the police department, but in the dangerous street world. Drawing on these experiences she's written five previous thrillers. Internal Affairs (2009) and The Broken Blue Line (2010) followed Detective Mike Turner who worked to expose police corruption. Then came three highly acclaimed Captain Josie Corsino mysteries: Fallen Angels (2012), Dead Wrong (2013) and Unnatural Murder (2014).
---
We Also Recommend