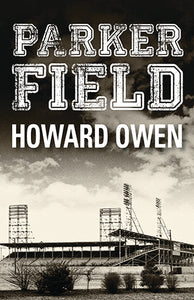 Parker Field (Willie Black Mystery #3)
Les Hacker doesn't seem to have an enemy in the world - other than whoever tried to kill him with a high-powered rifle while he was sitting on a park bench six floors below Willie Black's living room window. Les is the closest thing Willie has had to a father figure in a checkered life of drinking, divorces and journalism. He certainly has better qualifications than any of the other men Willie's mother, Peggy, took in over the years. Of course, as Willie would say, that would only make him a tall midget.
Now, with Les clinging to life, Willie decides to take a short sabbatical and do a story about his surrogate dad and the last minor league baseball team Les played on, the 1964 Richmond Virginians.
There's only one problem. As Willie tries to get in touch with other members of that team, he discovers that they are almost all below ground, most of them long before their allotted three-score and ten years. The cops already have Les's shooter in jail, a homeless guy who hangs out in the park. The shot was fired in his coat pocket, case closed. Willie's publisher and the police want him to stop wasting his time and theirs and get back on the beat. Willie becomes convinced, though, that someone, against all logic, is killing the entire starting lineup of a long-forgotten minor-league baseball team. And when Willie gets his teeth on the truth, he's a pit bull who won't let anything short of a shot to the head dorce him to let go.
In this third Willie Black novel, after Hammett Prize finalist 
Oregon Hill
 (2012), and 
The Philadelphia Quarry
 (2013) Howard Owen brings back his flawed, ink-stained hero, a reporter who seems to do his best work when he's chasing a story nobody else wants, who can be his own worst enemy and the underdog's best friend.
---
We Also Recommend