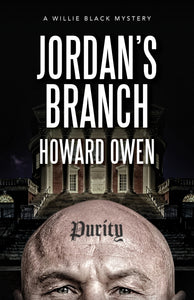 Jordan's Branch (paperback)
Howard Owen

232 pp.
ISBN 978-1-57962-653-2
paperback

When Willie Black finds an old acquaintance brutally murdered in the man's rental house in Westwood, it's personal. Willie was being paid to write Stick Davis's memoirs, but now Stick's dead, the memoir is half-written and Willie's out a promised $40,000. In addition, Police Chief and frenemy L.D. Jones considers Willie a prime suspect in the homicide.
Westwood abuts the covered-over site of a creek with a history. Jordan's Branch isn't much these days, forgotten or never known by most of Richmond's residents. It runs mostly unnoticed through and occasionally under the city on its way to the Chickahominy River. It has a past, though, harking back to the days when former slaves established a community on its banks, using the stream for everything from drinking water to baptisms.
Jordan's Branch is where Willie Black will come face-to-face with the Purifiers, a neo-Nazi group that wants to make racial war with those Jordan's Branch pioneers and their descendants. In his effort to clear his name, Willie stumbles on a plot that will achieve infamy from coast to coast unless he can stop it in time –– and save his own ass in the process.
Before it's over, Willie, a mixed-race night cops reporter who drinks, smokes and marries too much, a man with bad habits and a good heart, will find that Stick Davis's murder is personal to him in more ways than one.
This is Howard Owen's 20th novel and the 10th in the Willie Black mystery series. Owen, a longtime newspaperman, has worked at everything from reporter to sports editor to editorial pages editor. He has been writing fiction since 1989. He and his wife, Karen, live in Richmond. Among his earlier novels are the best-selling Littlejohn and the Willie Black mystery, Oregon Hill, which won the Dashiell Hammett prize for best crime literature in the United States and Canada.
---
We Also Recommend