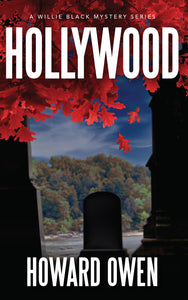 Hollywood
In Richmond, to paraphrase William Faulkner, the past is neither dead nor even past.
When a body shows up on a tombstone in Hollywood Cemetery, eternal home to two presidents (three, Confederate apologists demur, citing  Jefferson Davis), it's news. When an ancient Richmond business mogul drops dead at his 100th birthday party, that's news. When it is learned that the birthday fatality and the guy on the tombstone were father and son, dead within a day of each other, that's definitely good for the top of A1 in the local rag.
Coincidence? Willie Black, the newspaper's night police reporter, doesn't believe in coincidences.
When Willie starts digging, which is what Willie does best, he finds that, as with so much in Richmond, there is a history. He will risk his safety and even his life trying to find the link between 19th century grievances and 21st century retribution.
Willie Black has a history, too. A mixed-race kid reared by single mom in Richmond's whitest neighborhood, he's spent much of his adult life getting to know his town's people, places and quirks.
Even Willie, though, will be amazed when he discovers just how much a city's tortured past is still defining its present.
---
This is Howard Owen's 23rd novel and the 13th in the Willie Black mystery series. Owen, a longtime newspaperman, has worked at everything from reporter to sports editor to editorial pages editor. He has been writing fiction since 1989. He and his wife, Karen, live in Richmond. Among his earlier novels are the best-selling Littlejohn and the Willie Black mystery, Oregon Hill, which won the Dashiell Hammett prize for best crime literature in the United States and Canada.
---
We Also Recommend