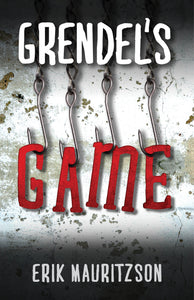 Grendel's Game
by Erik Mauritzson
Hardcover, ISBN 978-1-57962-398-2
"An excellent cast of characters, especially Ekman, will leave readers hoping to see more of them in a sequel." -Publishers Weekly
Southwestern Sweden is the site of an increasingly frantic hunt for Grendel, a psychopathic murderer the media will dub "the cannibal killer."

Thirty-year veteran, quirky, overweight Chief Superintendent Walther Ekman, has a difficult choice when he gets a boastful letter from the self-proclaimed cannibal: he can ignore it as a hoax or set about finding him. His intuition tells him there have been multiple murders, even though no bodies have been found.

His friend, psychiatrist Jarl Karlsson, helps his build a profile of a brilliant, homicidal sociopath, and warns Ekman that the killer is focused on him. The investigation pursues a twisting path, in the process uncovering Stina Lindstrom, a seductive black widow, her first husband and ex-con accomplice, and a ruthless, adulterous official.

Grendel's taunts have become increasingly personal and so dangerously close to home that Ekman sends his wife, Ingbritt, out of harm's ways. As the push to find the killer accelerates, headline-seeking newspaperman Bruno Haeggman launches a public vendetta against Ekman that can shatter his reputation. Compelled by political pressure to call on Superintendent Garth Rystrom of the National CID for help, Ekman senses the investigation is spinning out of control. As he and his team narrow the field of suspects, a sudden, wrenching confrontation with the killer threatens to destroy Ekman and his family.

In a long career of catching criminals, Ekman has somehow always felt personally invulnerable. Grendel teaches him otherwise by brutally making him a crime victim, and in the process, changes Ekman forever.
ERIK MAURITZSON, an attorney, has worked as a court administrator, central bank official, financial consultant, university professor, editor in chief of a legal publishing house, newspaper columnist, and military intelligence specialist. His travels around Sweden and Scandinavia have taken him to thirty-two other countries, including a year spent in a Japanese fishing village in northern Hokkaido. Grendel's Game is his first mystery novel.
---
We Also Recommend