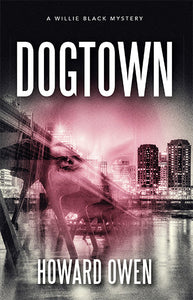 Dogtown (WILLIE BLACK MYSTERY #12)
When a blue-collar guy "without an enemy in the world" shows up brutally murdered down by the railroad tracks in Dogtown, everyone in Richmond is mystified. Then an elderly couple, also seemingly blameless, are slaughtered in their upscale home a couple of days later, and Willie Black starts to suspect something other than coincidence.
 After Richmond's nosiest night cops reporter starts digging, a  young girl barely escapes abduction and then a respected doctor is murdered. The city slips into panic mode. Gun sales are rampant. 
When the cops arrest an obvious suspect, everyone's relieved, but Willie becomes convinced that there's still a maniac on the loose. He does what he does best. He keeps digging. 
What's the link connecting a week's worth of mayhem? When Willie unearths the truth, the state's parole board and the city's mayor will have some explaining to do. 
Willie Black drinks too much, smokes too much and marries too much. He's a man with bad habits but a good heart.  He never quits, but this time his tenacity could cost him more than he could bear.
---
We Also Recommend