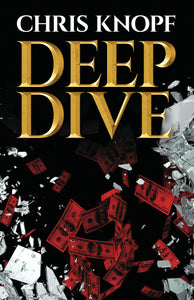 Deep Dive (Sam Acquillo Hamptons #9)
Sam Acquillo has spent most of his time in the Hamptons hanging out with the other half of the moneyed wonderland cops and bartenders, carpenters, store clerks and firemen. He couldn't care less about the concerns of the 1%, until his best friend Burton Lewis, a certified billionaire, is dragged into a high-profile death investigation. When Sam's girlfriend Amanda notes, "Didn't Fitzgerald say, 'the rich are different from you and me'?" "Yeah, they can afford to be even more screwed up." A former corporate super star, brought down by the machinations of the grasping class, Sam's not entirely unfamiliar with the cultural norms of super wealth. It's why he retreated to his cottage refuge at the tip of Oak Point Peninsula jutting into the Little Peconic Bay. But in the intervening years, he's engaged with all forms of low life tough guys and connivers looking for that edge, an easy path into a social order besotted with unattainable yearning. A world where the best revenge is one with no consequences, no penalties or costs. For some, there is no power without prestige, and no prestige that can't be bought. They see no distinction between corporate profit and high-minded non-profits, charity being the currency of social preeminence. In Deep Dive, Sam discovers just how right he is. The rich can achieve a level of depravity and hate both invisible, and incomprehensible, to the rest of us.
You're Dead, Knopf's 15th novel, was released in December, 2018. Deep Dive, 9th in his Sam Acquillo Hamptons Mystery Series, follows Tango Down, 2018 and Back Lash, 2017, which received a starred review from Booklist. Dead Anyway, featuring off-the-grid avenger Arthur Cathcart, received starred reviews from Publishers Weekly, Booklist, Kirkus and Library Journal and won the 2013 Nero Award. His short story Kill Switch was short-listed for the 2016 Derringer Award. A Little Cariñosoappeared in the April, 2017 edition of Alfred Hitchcock's Mystery Magazine. Crossing Harry was included in Akashic's New Haven Noir, released August, 2017. Knopf is a retired advertising executive who splits his time between Connecticut and Southampton, NY, with his wife and two Lakeland Terriers.
---
We Also Recommend