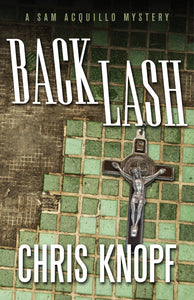 Back Lash (Sam Acquillo Hamptons #7)
As Sam Acquillo tells us in the early pages of Back Lash, "Not everyone gets to live their adult lives orbiting a central mystery. But that's how it s been for Sam, for whom a single, horrific event has helped define his entire existence. Now that event has reached out from the deep past, an unwanted visitor, with secrets within secrets he's forced to unpack like a Russian doll, each more ominous than the one before. What is revealed would be disturbing enough if it wasn't so personal. Not a welcome development for a man who also once said, "Avoidance, rationalization, and denial are highly underrated coping strategies".

The action moves from Southampton to the Bronx, where Sam once prowled in the part-time care of his father, owner of a truck repair business and a temper that stood out even on the mean streets of the city. It's here that Sam learns that evil history doesn't only repeat itself, it can improve upon the original product. That no matter how things change, the world of cops and criminals, priests, power brokers, wise guys, and even wiser old bartenders stays the same.

Or gets much, much worse.
Back Lash is Chris Knopf's thirteenth mystery/thriller and seventh in the Sam Acquillo Mystery Series. The Last Refuge (2005) was a finalist for The Connecticut Book Award. In 2007, Two Time was one of thirteen mysteries listed in Marilyn Stasio's "Recommended Summer Reading" column in the New York Times Book Review. Head Wounds was cited as one of the best mysteries of the year in 2008 by both Mysterious Reviews and Deadly Pleasures, and won the 2008 Benjamin Franklin Award for Best Mystery. His thriller series featuring off-the-grid sleuth Arthur Cathcart began with Dead Anyway, which received starred reviews from Publishers Weekly, Booklist, Kirkus and Library Journal. It was named one of The Best Crime Novels of 2012 by the Boston Globe and won the 2013 Nero Award. The sequels, Cries of the Lost and A Billion Ways To Die, were released in 2013 and 2014.
---
We Also Recommend