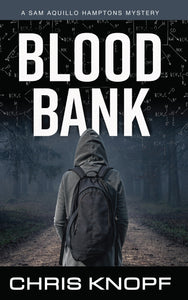 Blood Bank
When a brilliant young bioscientist suddenly vanishes, no one seems to know how or why. Her brother has a solution: recruit Sam Acquillo. Another investigation is the last thing Sam wants, but his girlfriend Amanda won't hear of it. "How will you tell him you won't try to find his sister?"
Sam might be reluctant, but it's not long before he's deep in the chase, infiltrating the world of high-stakes biotech, venture capital, deception, betrayal and the venality of millionaires and billionaires.
One-time boxer, current cabinetmaker and a talented research engineer in his own right, Sam does what he does best, unlocking conundrums, rescuing the innocent, cornering criminals and busting heads when he has to.
Ninth in the Sam Acquillo Hamptons Mystery Series, Blood Bank sees a return of Sam's supporting cast of oddballs, loyal co-conspirators and a certain canine named Eddie Van Halen, who has an agenda all his own.
Set in the late stages of the Covid-19 pandemic, Sam navigates a world gone haywire, where threats to life and the redemption of discovery are delivered in equal measure.
---
 Chris Knopf has published 18 mystery/thriller novels. You're Dead earned starred reviews in Publishers Weekly, Kirkus, Library Journal and Booklist, was named a Boston Globe Best Crime Novel and won the Nero Award. Two Time was listed in Marilyn Stasio's "Recommended Summer Reading" in The New York Times Book Review. Head Wounds was cited as a best mystery of the year by Mysterious Reviews and Deadly Pleasures, receiving the 2008 Benjamin Franklin Award for Best Mystery. His short stories have appeared in Alfred Hitchcock Mystery Magazine, Ellery Queen and Akashic's Noir series. Kill Switch was short-listed for the Derringer Award.
---
We Also Recommend